Keeping Stick Insects
Keeping stick and leaf insects is very easy and fun. Minibeast Wildlife has has everything you need.
Stick and leaf insects (known as phasmids) are herbivorous insects and are masters of camouflage. Australia has over 100 species of these amazing animals, which have evolved into a great range of forms. Some are long and twig like, some knobbly and others look just like leaves. A number of these insects are now available as pets.
Phasmids require the following basic things in captivity:
A secure ventilated enclosure
A constant supply of fresh leaves – many species eat gum leaves but some require other specific plants.
Water – droplets on the leaves.
Moderate temperatures avoiding extreme highs and lows.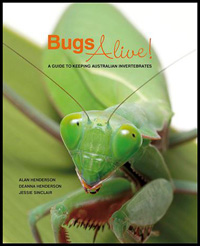 Minibeast Wildlife provides Care Guides for all the live phasmids we supply.
The award-winning 'Bugs Alive – A Guide to Keeping Australian Invertebrates' is a must have for anyone keeping Australian phasmids.
It covers phasmids and a whole range of other Australian invertebrates. It is written by Alan and Deanna Henderson (operators of Minibeast Wildlife) and their colleague from Melbourne Museum Jessie Sinclair.
This book and a great range of live stick insects are available from our online Bug Shop.