Insects and spiders for media production
Minibeast Wildlife has years of experience providing live insects, spiders and other invertebrates for use in film and TV productions. We take pride in our ethical approach and ability to enable natural behaviours of these animals to be captured on camera. If you need bugs for film or TV you've come to the right place.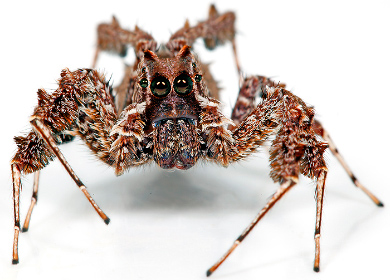 Our assets include:
• Live invertebrates: We hold and breed a diverse range of live invertebrates – most likely the greatest range in captivity within Australia. We can also source species on request. We have extensive networks throughout Australia and overseas and know how and where to acquire species.
• Expertise in invertebrate behaviour: Our depth of practical experience gained from working constantly with a wide range of invertebrates allows us not only to predict behaviours for the camera, but also enables us to stimulate natural behaviours when and where required.
• Specialised set-bases: We provide the hardware in the form of pneumatic set-bases that can be raised and lowered easily to allow a variety of shots to be captured with ease.
• Set-building: We can create stunning natural sets on a wide variety of scales and for terrestrial, subterranean and aquatic invertebrates.
• Production experience: We have worked on a wide variety of productions from kids TV shows to high quality documentaries and films. We have wrangled and provided sets for techniques such as time-lapse, high-speed and most recently cutting edge HD 3D macro.
• Location: We have a base in Kuranda within the rainforest in far north Queensland Australia. This region boasts the greatest invertebrate diversity in Australia.
• Photography: Minibeast Wildlife's Alan Henderson is a professional macro photographer with a great deal of experience and published work. His expertise extends to the film set where he is able assist DOP's with his combined knowledge of animal behaviour, photography and lighting.