Meet the Minibeast Wildlife team!
Here are our experienced staff
---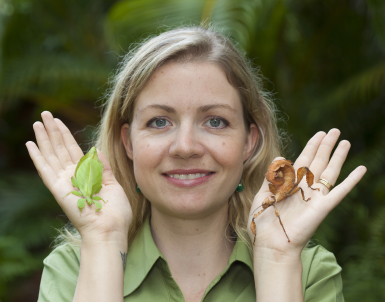 Deanna Henderson
Deanna has been working with wildlife for over 20 years. She studied zoology at Melbourne University and developed a fascination for small wildlife, namely invertebrates.
She was a founding member of the Live Exhibits Unit at Melbourne Museum. During 11 years at the Museum, she was an integral part of the development of the hugely successful exhibition, Bugs Alive!
She has presented papers at conferences both nationally and internationally, and also co-authored the award winning book 'Bugs Alive – a Guide to Keeping Australian Invertebrates', and more recently 'There's a Zoo in my Backyard'.
Together with her husband Alan, she founded Minibeast Wildlife in 2005.
---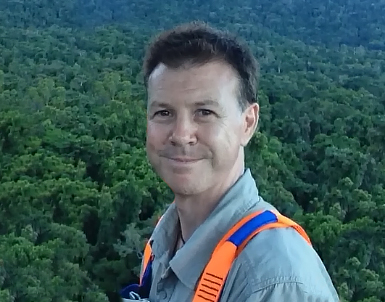 Alan Henderson
Alan has held a fascination for invertebrates his whole life. His other passion is macro photography and his images have been published in books throughout the world. He has authored the book 'Minibeasts – True Rulers of our World and the Key to our Survival' and co-authored 'Bugs Alive – a Guide to Keeping Australian Invertebrates'
Alan completed a BAppSc, Scientific Photography at RMIT University before beginning his zoo keeping career in Ballarat. He created the Australian Nature Education Centre in 1995 and received the Young Australian of the Year Regional Development Award for the Centre.
He was lured to Melbourne Museum and began the Live Exhibits Unit, which ultimately led to the development of the extremely popular 'Bugs Alive!' exhibition. He coordinated the Unit for 11 years before leaving to operate Minibeast Wildlife full-time. His expertise in working with live invertebrates have taken him around the world, including the jungles of Costa Rica.
---
Caitlin Henderson
Caitlin has grown up surrounded by minibeasts. As far as Caitlin is concerned normal household animals are spiders, insects, reptiles and frogs…well aren't they?
She has a great deal of experience managing captive invertebrates and finding them in the field. She is an accomplished write and photographer and has already authored many nature articles, scientific papers and was the lead writer of the award-winning Spidentify app.
Caitlin also worked at Melbourne Museum in the highly respected Live Exhibits Unit, responsible for managing 'Bugs Alive!' and the other world class living exhibits. Her spider knowledge and keeping prowess earned her the contracts to manage the live spiders in the Darwin and Brisbane Museum legs of the national touring exhibition 'Spiders Alive and Deadly'. Caitlin produces online educational content for Minibeast Wildlife.
---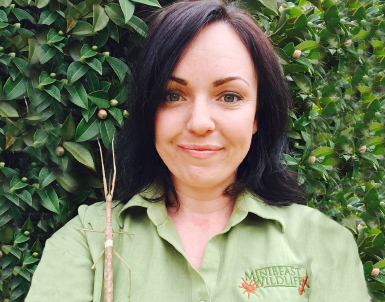 Jaimi McNair
Jaimi joined the Minibeast Wildlife team in 2015 and is a passionate member of our Victorian Educational Presenter team. She has a very keen interest in the invertebrate field, and keeps and breeds many species of invertebrates at home. Jaimi has worked in various areas of animal husbandry and at Werribee Open Range Zoo as a CSO.
Jaimi is also a mum, and has excellent communication skills when it comes to connecting with young children. Conveying passion and connecting children with nature is exactly what underpins our mission at Minibeast Wildlife.
---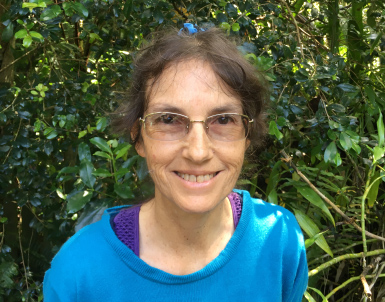 Judy Neal
Judy resides in the invertebrate paradise of far north Queensland and has been part of our QLD team since 2013. Judy assists with our weekly dispatch  of live invertebrates, which are sent all over Australia. If you have received invertebrates from us in the last few years, chances are that Judy has packed them. Judy also assists in the animal husbandry duties from time, keeping the wide range of invertebrates fed.
---
Hollie Neal
Hollie started with Minibeast Wildlife in 2016 at our north Queensland base. Hollie answers many of the email queries that our customers have about minibeasts, assists with animal husbandry and is an integral part of the team on the busy dispatch days when hundreds of live invertebrates depart for new homes around Australia. Hollie is passionate about nature and has spent her whole life in the tropics surrounded by the myriad of minbeasts that this region has. Hollie is also a yoga instructor and runs the 'Little Yogis' classes in Kuranda for a completely different kind of minibeasts!
---
Talia Van Bockel
Talia joined Minibeast Wildlife in 2019 and is part of the Melbourne team. She has loved invertebrates for as long as she can remember and has kept and bred all manner of creatures since she was 11. She has an endearing relationship with stick insects; resulting in her having bred multiple species over 9 years. Talia also has a passion for people and delights in inspiring all ages with sharing how incredible these creatures are. Throughout school she wanted to combine her passion for people with her passion for invertebrates through education, so working for Minibeast Wildlife has been the perfect job!!
Not only does she enjoy invertebrates, but she delights in all creatures large and small. She is head keeper of a small reptile house, has a keen interest in birds, loves adventuring, being a part of natural environment and seeing creatures in their natural habitat. Camping, rock climbing, kayaking and hiking give her the opportunity to do this.
---